Parents (or guardians) who are into organic lifestyle might find it really hard to introduce medicine prescribed by hospitals to their young ones whenever the latter get sick. Just thinking of how soft, meek, and vulnerable they are, would make us hesitate sometimes of giving them synthetic, strong medicines formulated commercially. So in this blog post, we are going to give you ideas on how to take care of them whenever sick, the organic and safest way--with herbal teas.
Are herbal teas safe for babies?
Yes, they are safe for babies since herbs are very organic and diluted. This means that it can never be too concentrated to be too much to take for the infants.
Plus, you may tweak the taste of the herbs so that it wouldn't be hard to convince the kids to take them. For one, you may add organic honey which is a natural sweetener, and a very healthy one.
Lastly, you can control the strength of the teas, like many herbal preparations. You just have to weigh on how much the child would need, how it would taste, and how you would want to use it.
How do I determine the dosage of herbal teas?
We already know that babies only need a little amount of herbal medicines so it would be safe to conclude that teas would be perfect for them. Still, this begs the question, how much of it should I give my baby? Below are some considerations that I suggest you keep in mind to figure it out.
First: Consider the herb that you are giving.
If you think the herb that you are giving your little darling has no upper limit or toxicities, then there's no need to worry on giving it to them in tea form. But, if you would want to really be sure, feel free to check it out and do a bit of research.
Second: Check on how much an adult takes of this herb as an infusion.
Normally, adults take four (4) cups of strong herbal tea infusions in a day. A baby is only to drink 1/2 a cup of this kind of strong herbal tea infusion a day. But if the herbal tea infusion is weak, the little one can be made to sip 1 and 1/2 cup of it.
Okay, these are based on what I have generally observed, and what I learned through my research. Nothing is set in stone. So you may adjust it according to the need of your child.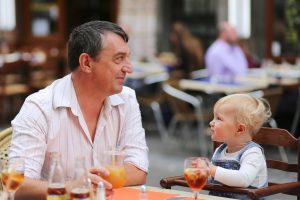 You may put the whole 1 and 1/2 cup of infused herbal tea in a container. Then, you can divide it in such a way that your baby can have an equal dosage every after meal or feeding time.
How do I improve the taste of the not so yummy herbal teas?
It can be quite tricky to make your young ones sip on some teas--especially those that do not meet their idea of yummy taste. Don't worry I have specially set this part just for that.
Use a sweetener - I opt using organically prepared honey. Sometimes, I use stevia. Other mums use glycerin or maple syrup for the purpose.
Make it as ice cubes for healthy juices or smoothies.
Use it in place of water for homemade jello or popsicles .
Prepare it cold, not hot.
Alright, so that's a wrap! I hope I was able to help you with this task of growing your babies the healthy way. I know you can do it with the help of people who have the same goals as you do. So stay close! And keep updated for more of this herbal tea ideas for kids ailments on our next posts by following us on our FB Page or our Instagram account.